VOLUME 2, NUMBER 1 | FEBRUARY/MARCH 1999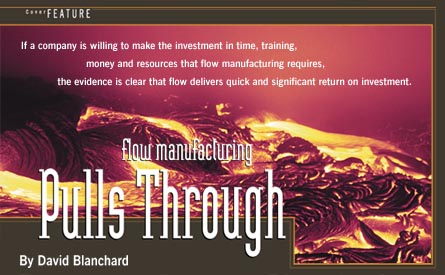 Success has many fathers, so the saying goes, and if we conclude that flow manufacturing is indeed a successful business philosophy, then it is no wonder that its ancestry is so disparate. "Agile" and "lean" and "continuous flow" and "Just-in-Time" all have a valid claim as the inspiration behind flow; even more to the point, virtually everybody agrees that flow manufacturing ultimately derives from Japanese manufacturing principles, particularly kanban.
The basic idea, inherited from the Japanese, is to "pull" materials through production based on actual customer demand, rather than "pushing" them through based on a pre-set schedule. Aimed primarily at manufacturers of discrete products, flow is especially well-suited for such vertical industry segments as: automotive suppliers; aerospace suppliers; high-tech electronics; industrial products; and medical equipment.
The concept of flow manufacturing as it has been popularized in the United States is based on a specific methodology created 15 years ago at the John Costanza Institute of Technology (JCIT) (www.jcit.com). Therefore, we'll use JCIT's basic definition as the foundation upon which all the developments and applications mentioned in this article were built: a strategy that enables a company to institute an ongoing sequence of product in a flow process that is replenished from other internal processes and external suppliers based on actual customer demand.
JCIT has developed what it calls the Demand Flow Technology (DFT) model, which is a mathematical set of tools to design flow lines and processes. Speaking at Flow Forum '98, held last November in Denver, William Swisher, JCIT's executive vice president, explained that flow manufacturing is "a manufacturing strategy that focuses on speed, response and flexibility. It is based on a premise that through the use of the mathematically based tools of DFT, a company can compress their manufacturing lead times to the actual work content time of its products (typically minutes or hours)."
Swisher also observed, "Flow manufacturing assumes that all material is 'pulled' to the process using kanban as an alternative to kitting or material allocation. Usually, flow also assumes that demand is sequenced to the process on a daily basis and that employees are trained, certified and often compensated based on flexibility and linearity."
Swisher outlined some of the key benefits of flow manufacturing, which sound like virtually everything on a manufacturer's wish list: reduced lead times, reduced inventory, improved productivity, improved quality, increased market share, reduced overhead, a reduction in floor space requirements, increased production output, higher employee morale, shortened product development life cycles. What company in their right mind wouldn't want all those benefits? The trick is in transitioning a company from where it is right now, to the point where it can enjoy the benefits of flow. It's not an overnight process, and it's quite a bit more intense than just installing a new software application.
Flow manufacturing, first and foremost, is a business strategy, and one quite unlike what many plants typically operate under. "Flow differs from traditional MRP-based manufacturing in that it encompasses many of the Japanese lean manufacturing techniques of reduced cycle times, mixed-mode production, balancing a line, eliminating work in process, and basing production on actual demand or very near-term forecasts instead of longer term or quarterly or even semi-annual forecasts," explains Karin Bursa, vice president of marketing with American Software (www.amsoftware.com), one of the first vendors to market a software tool to facilitate flow (called, not surprisingly, Flow Manufacturing). "Flow's production is typically based on a planning horizon of no more than a couple days instead of weeks or months. Traditional discrete MRP manufacturers still average about 12 weeks from a planning and scheduling perspective; with flow, you can see manufacturing lead times as tight as four hours."
In contrasting flow and traditional MRP, Bursa cites the analogy, "With flow, you're manufacturing products just in time; with MRP, you're manufacturing just in case. They represent very different ways of evaluating your business."
Implementing a flow strategy requires a company to do exactly that: evaluate their manufacturing operation and reengineer the layout of the production facility. The goal is to align the manufacturing operation so that it facilitates a continuous flow — from start to finish — of the items that will be manufactured on that production line.
Bursa uses the example of a manufacturing line for automobile headlights, with the goal being for a company to produce any mix of items on any given day, based solely on actual demand for the lamps. When demand for a particular lamp is received, raw materials are pulled directly to the operation at the line where the materials will be consumed, based on a kanban pull signal. These materials are replenished from a raw-in-process stock location, which in turn is replenished by a supplier based on another kanban pull signal.
The key to a successful flow implementation, however, begins not on the shop floor but in the motivation of a company's senior management. According to Ernst & Young (www.ey.com), one of the Big Six professional services firms, there are 10 reasons why flow manufacturing implementations have experienced problems:
Management and union leadership fail to:

1. Dedicate a senior executive to lead the implementation;

2. Set business strategy with a clear vision that leverages the capabilities of flow;

3. Prioritize the flow initiative in budgeting, target setting and business planning;

4. Systematically communicate and emphasize the "why" and "how" of flow;

5. Provide visible, clear leadership endorsing flow.


The infrastructure suffers a lack of:

6. Supportive manufacturing measurables;

7. Clear need for urgency;

8. Support for generating short-term wins;

9. Dedicated resources to support the transition;

10. Adequate training access and execution.
Having a "champion" is absolutely essential to ensure the implementation carries through to fruition. "Leadership by a key individual has distinguished all the successful transformations we have participated in or observed," says Ernie Miller, partner in Ernst & Young's Management Consulting Group.
Ernst & Young flow projects frequently use the Oracle Flow Manufacturing solution found in Oracle Release 11 (www.oracle.com). This mixed-model manufacturing application is designed to enable companies to deploy multiple methods concurrently at any level in an organization — by product family, production line, process or plant. Mixed-model means a company can make any item in any sequence in a lot size of one, while simultaneously reducing cycle times and inventory. "Mixed-model manufacturing is ideal for both middle-market companies and enterprises in all industries, primarily because it increases efficiency while removing the business risks normally associated with a switch from traditional manufacturing methods to next-generation techniques," says Lou Unkeless, Oracle's senior director, Manufacturing and Supply Chain Marketing.
American Software and Oracle, as well as SAP (www.sap.com) with support for flow in R/3 4.0, are leading the charge to provide software that smoothes out the often bumpy ride companies experience in moving toward flow. All of these software applications are of very recent vintage, but point to a trend that some think could have major implications for the industry. "The emergence of flow manufacturing software that provides capabilities for production line design, point-of-use delivery of components, kanban card calculation, and cycle time-based production within an integrated business information system may well be the most important tool in the progressive manufacturer's grasp today," opines David Caruso with AMR Research (www.amrresearch.com), a market research firm.
Indeed, one trend to keep your eye on over the course of the following months is the integration of ERP systems with flow manufacturing technology. For instance, Cincom Systems (www.cincom.com), a provider of enterprise software solutions for manufacturers of complex products, has introduced a Demand Management Suite as part of its CONTROL ERP software. Cincom's flow manufacturing application includes the following components: demand scheduler; kanban sizing and replenishment; flex fence planning; and sales and operation planning. The software is based on an open, Web-based architecture, which facilitates its integration with ERP products, including CONTROL.
Similarly, JBA International (www.jbaworld.com), a supplier of enterprise management software, recently formed a strategic alliance with American Software to integrate JBA's System 21 ERP software with American Software's Flow Manufacturing product. The combination of the two products is particularly aimed at the automotive industry.


Going With The Flow



Let's look now at some of the success stories the flow manufacturing movement has spawned.
Cerberus
Siemens, Cerberus Division (www.cerbpyro.com), formerly Cerberus Pyrotronics, a manufacturer of smoke detectors and other safety equipment, decided it would go with flow because it simply wasn't able to keep its customers happy with its traditional manufacturing methods. When customers were unable to get equipment from Cerberus immediately, they looked elsewhere, forcing Cerberus to maintain a large finished goods inventory that included a one- to two-month supply of each of 1,200 units. Naturally, carrying such a large inventory drastically reduced the amount of working capital the company had.
"Traditional MRP and batch are very inflexible because they require a lot of inventory to respond to immediate customer demand," says Garret Wyckoff, manager of manufacturing engineering at Cerberus. "They also require a lot of paperwork, and work order management can get very cumbersome, requiring extra people to do non-value-added work." Attracted by the positive reports flow manufacturing was garnering from other companies, Wyckoff launched a small continuous flow pilot project that included kanban replenishment. Based on a minor product line, the pilot demonstrated the feasibility of eliminating work orders from production. Other results included increased productivity, reduced inventory and a 25-30 percent reduction in floor space.
The company then expanded the test of continuous flow on the final assembly, test and packing of all its smoke detectors, a test that brought about a 50 percent reduction in work in process. The test also convinced Cerberus that it could react to mixed-model changes on a daily basis.
"The critical test came when we consolidated Canadian operations and began supplying Canada from our New Jersey plant. The volume increased dramatically, and the model mix changed daily, depending on their requirements. Continuous flow enabled us to meet both the increased demand and the model mix changes," says Wyckoff.
Cerberus next stepped up its efforts by adopting demand flow methodologies, which can link all operations within manufacturing and the warehouse, rather than just for individual lines. Demand flow also lets a manufacturer respond to dissimilar production mix and volume, with the aim of producing each model as frequently as possible.
Cerberus runs its flow manufacturing processes on an AS/400-based system optimized with American Software's Flow Manufacturing application. This system provides Cerberus with the ability to generate TQC method sheets (graphical work instructions that document the steps required to achieve quality standards at each production stage), handle kanban management, automatically backflush material along the line during production and produce daily plans of mixed modules based on immediate demand.
Then came the toughest part of the entire transition process: training. "When you upgrade an MRP system, you just have to deal with improvements to the existing system. With flow, you're teaching people a complete system with a new set of core competencies and performance measures," explains Wyckoff. "Employees have to begin thinking in terms of daily instead of weekly or monthly planning, paperless production and eliminating inventory at individual workstations. Frankly, that's terrifying to some people comfortable with the old ways of production. It's impossible to underemphasize the importance of training, training and more training."
Ultimately, the implementation of flow produced significant improvements at Cerberus. In previous years, a particular model of a smoke detector would go to finished goods at Cerberus every 15-30 days; now, thanks to flow, multiple models are delivered off a line every 20 seconds. Furthermore, productivity has increased 15-20 percent in some areas. The need for floor space has been reduced by 25-30 percent. Paperwork has almost been eliminated by disposing of work orders and routings. Finished goods inventory has been cut in half for products produced on flow lines. Quality has improved. Meanwhile, volume has grown by 35 percent.
Based on his experiences, Wyckoff suggests that other companies considering flow should select a flow manufacturing model, and then stick to it as closely as possible. "Apply the model first to the end of the manufacturing process, and later apply it to the initial stages," he explains. "A rigid model helps you maintain focus and solves a lot of the obstacles. Without such a model, you can have difficulty implementing a radical change like flow."
Intermec
Intermec Technologies (www.intermec.com), a manufacturer of automated data collection products, began its implementation of JCIT's Demand Flow Technology by applying it to printer manufacturing. That implementation was so successful that all Intermec manufacturing operations now utilize DFT. Intermec integrated DFT with its ISO 9001 quality control program, which has led to a drastic improvement in the reliability rate of product shipments to customers. Furthermore, the defect rate has been slashed to less than 1 percent.
According to Ken Hansen, Intermec's vice president of manufacturing, the company is encouraged by the positive customer feedback. "Our customers heavily influenced the strategic decision to implement DFT at Intermec," says Hansen. The technology has enabled the company to consistently deliver quality product on time, improve labor utilization and enhance its operation efficiencies and profitability, he points out. Furthermore, the shipment-to-promise performance has improved to 97 percent.
Implementing flow technology has boosted Intermec's efforts to combine five different printer lines into one mixed-model line, in the process reducing its manufacturing floorspace requirement by more than 20 percent. The amount of finished goods and in-process inventory has been cut in half, saving millions of dollars in carrying costs. Non-value-added activities have been eliminated to the extent that productivity has increased by 20 percent.
Trane
American Standard (www.americanstandard.com), a conglomerate of automotive, plumbing, medical and air conditioning product manufacturers, is one of the earliest and most frequently cited proponents of flow technology, with reported savings to date of $500 million in working capital. The company's CEO, Emmanuel Kampouris, has been positively glowing in his endorsement of the DFT techniques taught by JCIT: "Demand Flow Technology is the foundation of our success. It has evolved from a business strategy to a core competency of our company. In fact, all management and the majority of all 38,000 American Standard employees have been taught the DFT techniques."
As the air conditioner manufacturing sector of American Standard, The Trane Company (www.trane.com) has used the DFT techniques taught by JCIT and enhanced them with the flow manufacturing suite in Cincom's CONTROL solution. CONTROL is used as an enabling component for implementing flow in Trane's configured-to-order environment.
"[Flow manufacturing] has provided us the ability to tune system functionality for a specific business unit's environment and get that site live quickly," says Dick Pearse, information systems manager for the La Crosse (Wisconsin) business unit of Trane's Worldwide Applied Systems Group. "Trane has 11 sites live, six more targeted before year-end, and the remaining two slated for early 1999," he notes. In terms of bottom-line impact, Trane's market share has climbed from 43 percent to 51 percent after implementing flow manufacturing, and sales have doubled.


A Buzzword for the New Millennium



Flow manufacturing is an up-and-coming technology that is only now, at the end of the 20th Century, becoming sufficiently well known that it can be considered a buzzword technology. Not every company will want to implement it, since its benefits are geared toward mixed-mode manufacturers. Furthermore, the transition to flow requires substantial changes in processes, a significant investment in training and effective automation support.
"There are two types of companies that embrace flow," explains American Software's Karin Bursa. "The first are the greenfield operations, the new companies that are young and aggressive and trying to figure out how to compete most efficiently in the marketplace. The second are the larger, more established companies with very departmentalized approaches to manufacturing. This second group is looking at eroding market shares, and they see their competitors eating away their market share because they're faster and more flexible."
If a company is willing to make the investment in time, training, money and resources that flow manufacturing requires, the evidence is clear that flow delivers quick and significant return on investment (typically within a year) in terms of improved quality, productivity and flexibility. If nothing else, flow is certainly >worthy of a discrete manufacturer's consideration.
David Blanchard is senior editor of Evolving Enterprise.




Web Site © Copyright 1997, 1998, 1999 by Lionheart Publishing, Inc.
All rights reserved.




Lionheart Publishing, Inc.
2555 Cumberland Parkway, Suite 299, Atlanta, GA 30339 USA
Phone: 770-431-0867 | Fax: 770-432-6969
E-mail: lpi@lionhrtpub.com
Web: www.lionheartpub.com




Web Design by Premier Web Designs
E-mail: lionwebmaster@preweb.com